On the way back to Paris, I wanted to share my race with you Rheinsberg Swimrun in Germany. It's been a long time since I did a race report, but above all: there were pitfalls before I could take this start…
1st disappointments
November 2021
It all started last November. When for my 40th birthday, my friends and my family offered me a bib and a kitty to go to California to do the Catalina Swimrun (ok I know, it's not ecological but I assume this gift / trip that is my guilty pleasure… And despite everything, I do my best to reduce my carbon footprint on a daily basis).
I register, I take my tickets, my mother is ok to look after the children in March… I then contact the team Envol for personalized coaching to improve myself in Swimrun (therefore in swimming and running) and prepare for the race over 4 months.
January 2022
In January, I hurt my ankle right quite severely. At first we believe in a sprain but after 3-4 weeks of rehabilitation without improvement, we finally diagnose an anterior ankle impingement… Big grimace from my physiotherapist and my sports doctor who directly see a very long convalescence and a difficult rehabilitation with sequelae and trial and error in the treatment.
And to top it all : the race in California is canceled. Covid aftermath still raging there… The cup is full.
I keep on treat my ankle, year after year… And I need to plan for the next race to continue to stay motivated in my training. But I feel like I have to change something. It's not normal that every time I try to increase my running volume, I injure myself. On the back, on the hip, on the knee, on the ankle… There is always something!
Awareness
It was then that Nicolas Remires, head coach of the Envol team, told me that he found my weak feet when he watches my videos. It doesn't even surprise him that I got hurt.
So he directs me towards foot reinforcement exercises… And on a book. A book that is in the process of change everything in my life as an athlete and as a sports coach. Older Yet Faster by Keith Bateman and Heidi Jones. An Australian over 55, a former high-level runner and a modern podiatrist who, after many injuries, transformed his stride to find an optimal minimalist race. Keep running old, and faster.
Other Mentor: Bertrand Soulier, which I have been for years. He also guided me a lot in this choice to change my way of running. Fewer shoesless cushioning, less soles, less of everything.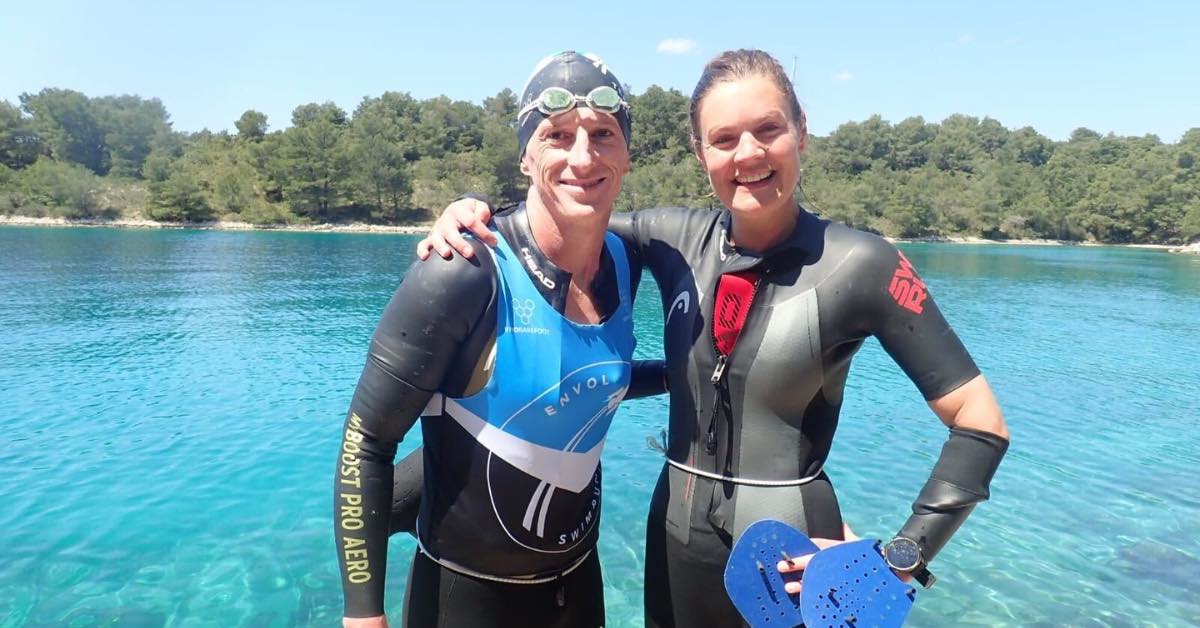 In short, I will come back to this later, but I have felt a real change since the end of January and February 2022. And of course, the treatments of the sportiest of physiotherapists, Jérôme Augier (whom I have already received several times on Youtube), perform small miracles.
Between the physiotherapist and the reinforcement exercises, the minimalist stride work: the progress on my feet and my ankles is dazzling.
I'm only at the beginning, but I no longer run, I fly. And it's not over !
Towards a new challenge
February 2022
As I feel that my ankle is doing better, I suggest that Tom (sports coach, expert in the advanced running program) accompany me on a crazy Swimrun. A swimrun marathon at night in Embrun, end of June 2022. Sick challenge!! 35 km of running and 7 km of swimming in the Serre Ponçon lake, in the middle of the night!! An adventure, a unique experience. He's up for it, we warm up, we sign up, we train.
In the program :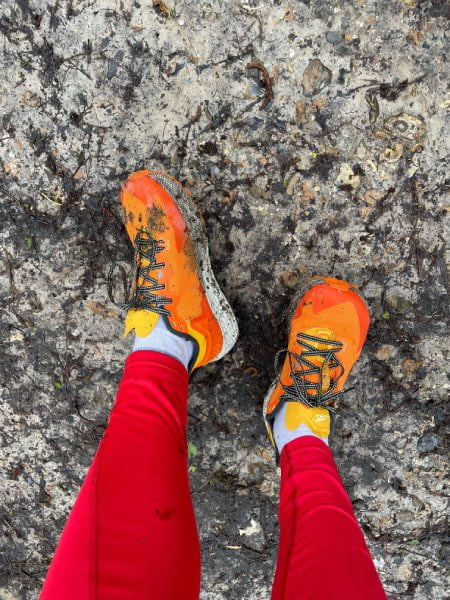 I'm regular to death. I change everything for my feet. Changing city shoes in barefoot mode, testing new running shoes without dropping.
I'm on the Altra Timp at the beginning. Flat sole (heel not raised) but large shock-absorbing sole. It's not bad, I feel stuff, but it's still heavy.
In the stadium sometimes, when I have the right rhythm in barefoot running, I feel crazy things. I'm flying, I'm light, my glutes take over the race, nothing in the front of the thighs. My silhouette is sculpted differently. Fewer quadriceps, more calves, more glutes. That's what I need!
Then I try to run with Vivobarefoot. Too hard, not enough cushioning, I'm not ready yet… However, during my Swimrun course in Croatia, I met runners who run marathons or trails in Vivobarefoot!! Crazy. I never would have thought that possible a few months ago.
And there: on the advice of Bertrand Soulier, once again, I tested the Altra Escalante. Revolution still in my life as an amateur runner. It's a slipper that makes a starting block with each stride if you do it right. Rebound, spring of the calf, engagement of the buttocks: lightness.
And then the final touch to my progress: I put on Toe Spacers to widen my toes, regain mobility in my feet which have been locked up for more than 40 years in shoes that are always too tight, always too high heeled, pushing my 2 Hallux valgus always further inward…
June 2022
At the beginning of June, I'm ready. I swim, I run, I followed practically all the training sessions of the Envol team. My husband supports me, even when it's hard and I have to go for a 2 am run on a Sunday morning. He's there, he hardly groans, he helps me reduce my guilt.
Tom, he trains a little. He is a triathlete, he needs less training than me. We do the Jablines Swimrun (quite ugly by the way…) together to test ourselves. We're going to run at night, we're gearing up. We eat well, I no longer drink 1 drop of alcohol.
And then, 10 days before: the Embrun swimrun is canceled. More water in the Serre Ponçon lake. Ultra-disappointing and also ultra-sad for the planet. Extreme drought in the Southern Alps.
This is hugely frustrating!! I need to test myself. I want to express myself. I've learned so much in the past 6 months: I need to prove to myself that it works. To prove to you that it works too.
Neither one nor two, Nicolas from the team envol finds us this local race that he knows well, the Rheinsberg swimrun 1h30 from Berlin. I will take the opportunity to go see Marion, my partner. Another top score from my husband who is ok for me to go longer than planned. There aren't many spouses like him… I hope you meet one like him!
The Rheinsberg Swimrun
Sunday, June 26, Rheinsberg Swimrun, for which we are very well prepared since it is much shorter than that of Embrun:
My goal : be free. I participate alone. I want to be able to enjoy, accelerate but without feeling behind the cardio all the time.
Tom and I are on the job! He is aiming for the podium. Me, I feel readyeven though I've been sick all past week with an ultra-painful flu syndrome.
Starting signal !
In my Altra Escalante, I'm super comfortable. The first 30 minutes with 2 sequences of running and swimming, I feel that I am starting to suffer. It's ultra-hot, I'm short of breath, I'm on 4'40 km running. It's fast, I know I can't hold on, but I'm flying, I'm super good with my legs. It's the heart and the lungs that don't follow.
From 1 hour of effort I am well.
I'm in the thing, I'm enjoying. It's beautiful, it's beautiful, but how beautiful this corner of Germany is!!!! Magical forest, very soft ground, ultra warm lake. I drank liters of it!! I manage my hydration well. Between lake water, sweet drink on ravitos, gel (authentic nutrition) every 45 min, 1 or 2 half bananas. I swim, I run, I live.
There is a South African who swims better than me. She doubles me with each swim, I double her with each run. I tell myself that I run well. I'm leaning forward a little, and I think of Nicolas's words.
"You don't try to run fast, you run well. Because when you run well you run fast. »
I repeated this to myself a thousand times.
And I cried too, because it was beautiful and it was not at all what was planned. I was talking to my ankle, she was super ok.
The last swim was so long.
I couldn't take it anymore. Anyway I had lost sight of the South African who had overtaken me too much in swimming and who was unattainable in running. I looked at my watch it hadn't been 3 hours at all. I was going to be able to do it in less than 3 hours? I mean, it's not possible!!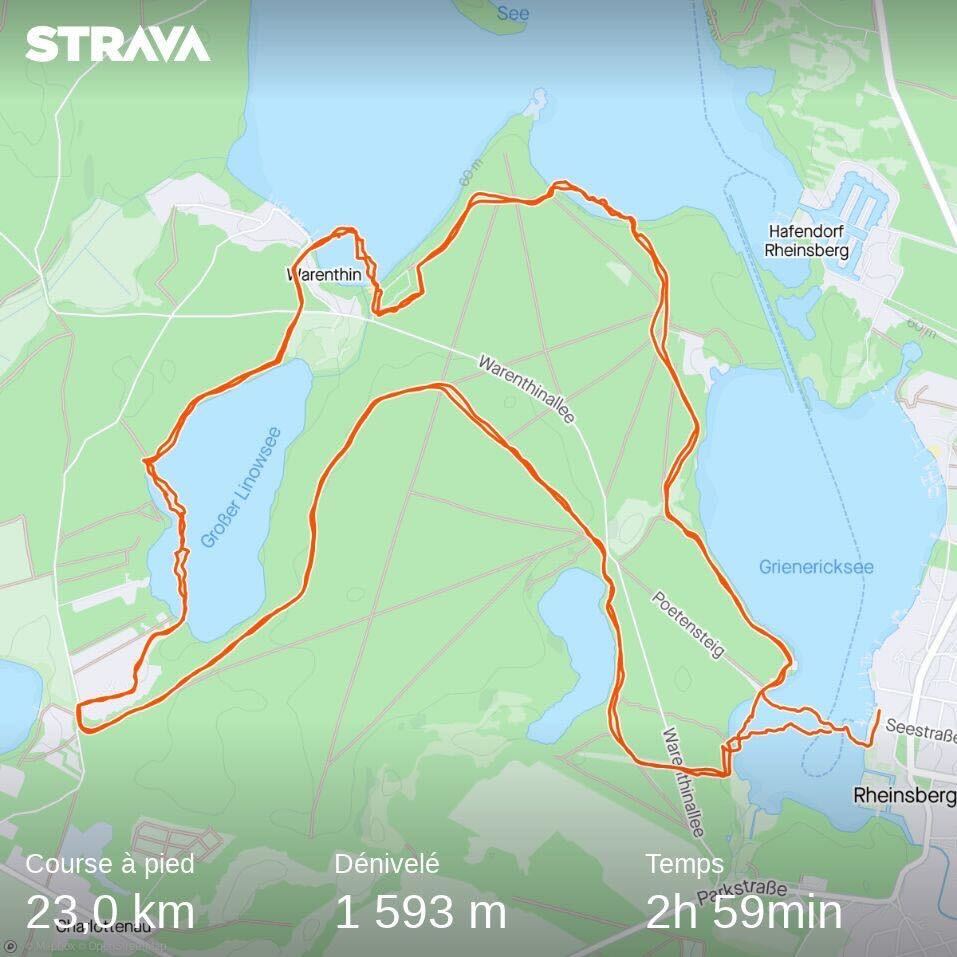 Arrival: 2h59.
Unbelievable !
On the podium ?
The 3e and 2e are very young and fresh. The 1D woman: in 2h47 – is in the 45-50 years old category. YES !! The dean of the women's solo race is also the 1D arrival.
This podium inspired me so much. An opening of the field of possibilities. A desire to continue, to persevere, to tear everything up in the coming years!!
In summary
Do you realize this report? I said very little about the race. Who was fabulous. Superb even.
But in the end, the most important thing was the preparation, the adventure, the determination, the learning along the way.
The second important thing is the aftermath: the inspiration, the desire to continue, the desire to progress which is even more there than ever.
The race? Gorgeous. Unforgettable. The most beautiful I've ever done and so cool to share this with Tom. A slice of life that I keep in my heart and in my head.
Thanks for reading me to the end!