A big thank-you for all your messages following my announcement of the fatigue fracture diagnosis on Wednesday. As you can imagine, there is a lot of frustration… But like every event, I try tolearn from it to come back even stronger!
My right foot pain is actually a stress fracture.
In truth, I suspected it but I delayed the radio as long as possible to see if it would still pass… I had been feeling ultra tired for 2-3 weeks. I had asked my doctor to prescribe me a blood test but everything was normal…
I had still decided to take a 4-day break at the end of last week, to find some juice. And then finally, here it is. The diagnosis is made: it is a stress fracture.
Those are 4 restful weeks waiting for me:
In place :
I take this break with resignation.
My sports doctor pulled me up a bit. By explaining to myself that with my training a little more intense, I had to integrate more recovery.
That is to say: lying down, taking a nap, getting a massage, do nothing…
And not: hiking on Sunday afternoon with the children, accompanying them for 1h30 standing up to their football match, visiting a museum, carrying the groceries from the market, filming 3 Youtube videos, testing a Yoga class… Or in any case, when I do all this: consider them as training.
It is true that recovery is very difficult to take when you have already taken time for yourself by doing your sport.
So past the mad disappointment at the announcement… I take this break with resignation. A sports break. A break from what I love the most : sport for me, for my little challenges, my little personal loves. And to tell myself that for the next few months, we will have to do:
I have energy, I always have.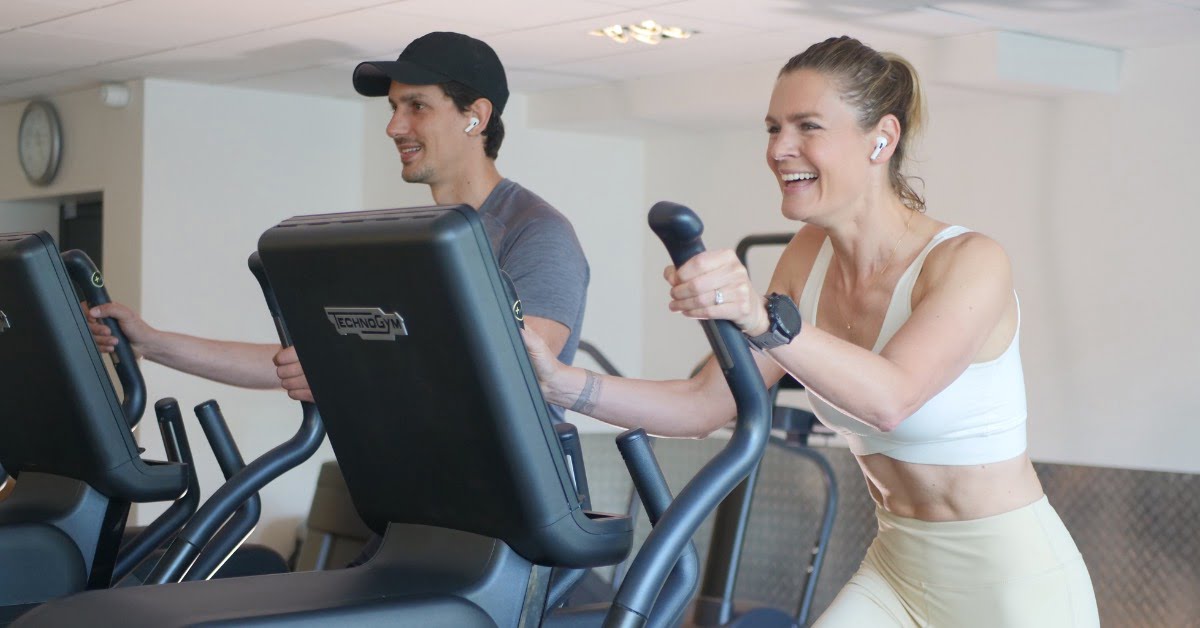 In your messages, some of you suggest that I understand why I always want more, more sport, more challenge. And one of you tells me about having had this realization of the fear of aging, fear of moving forward in life, fear of reduced performance… It made me think. But no I don't feel so concerned.
In fact, it's part of me. I'm bubbling with energy, it's in my blood. A few years ago I did a psychotechnical HR test, and I got a crazy energy score. I have energy, I always have. It's my nature. I'm not going to change. This is what defines my personality.
Then: I'm not into performance. I understood that I will never make a podium, time, stopwatch or what. It's more for me, to see how I can improve myself!
Besides, I take this injury more like the combo: technical fault + lack of recovery. I can't run light and easy. Always not. Not enough.
Find out how to escape differently.
But deep down, what saddens me the most is having to put myself aside a little longer. To let family, work, everyday life pass by. Yes I love my family, my work, my daily life. Really !! But I also need this escape.
Escape what?? to these responsibilities. Yes. I'm not afraid to say it. Being a mother, business manager, coach of tens of thousands of people… These are big responsibilities. And when I run, swim or when I do surfing, swimrun or other adventures… I find myself like a kid. Free child. I play more than I move. I need to have fun to regenerate myself. I like it, it's fun. And it helps me to stay fully in the rest: my work, my family, my daily life.
So less escape in the coming weeks. Or rather find a different way to escape.
So yes I like yoga and meditation and soft sports. No worries about doing more. But what I love above all is the crazy adventure of an intense sporting challenge. It's like that. It's part of me. And I especially want to plan for the long term in this kind of adventure. In 10 – 20 – 30 years, I want to still be able to go skiing, surfing, swimrunner or what or what, without limitation.
No, I'm not going to stop everything.
So yes, I'm going to be super reasonable, heal my foot well and rest. But no, I'm not going to stop everything:
I will continue. And up to age 80 minimum. So if I have to integrate more recovery, less intensity, find the rhythm that suits me: OK.
But no, I will not resign myself. Never. And no, it's not because I'm afraid of getting old or don't want to accept anything. I am in tune with my life, with my intensity, with my age.
I just can't get enough rest. I will find. I saw more wounds. Especially with my cruciate ligament in 2016. And I came back stronger. Really.
What I remember
What I remember is that I have to take fewer ultra bibs in advance. Because in the end the Swimrun course in Croatia, I decided 3 weeks before departure and it went really well. Elle's challenge in Chamonix, the same: a bit hard and I was in good shape.
So more spontaneity in these adventures.
And good regularity in my workouts. Without objective. Just be ready to seize the adventure as it comes.
Thanks for reading me so far. I haven't said my last word with endurance sport. With my loves. With this triple life of mom, entrepreneur and athlete at my level. Can't wait for this winter!!